"Production of erotic films commenced almost immediately after the invention of the motion picture. Two of the earliest pioneers were Frenchmen Eugène Pirou and Albert Kirchner. Kirchner (under the name "Léar") directed the earliest surviving erotic film for Pirou. The 7-minute 1896 film Le Coucher de la Mariee had Louise Willy performing a bathroom striptease. Other French film makers also considered that profits could be made from this type of risqué films, showing women disrobing.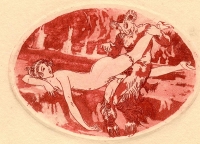 Also in 1896 Fatima's Coochie-Coochie Dance was released as a short nickelodeon kinetoscope/film featuring a gyrating belly dancer named Fatima. Her gyrating and moving pelvis was censored, one of the earliest films to be censored. At the time, there were numerous risque films that featured exotic dancers. In the same year, The May Irwin Kiss contained the very first kiss on film. It was a 20-second film loop, with a close-up of a nuzzling couple followed by a short peck on the lips ("the mysteries of the kiss revealed"). The kissing scene was denounced as shocking and pornographic to early movie goers and caused the Roman Catholic Church to call for censorship and moral reform - because kissing in public at the time could lead to prosecution. A tableau vivant style is used in short film The Birth of the Pearl (1901) featuring an unnamed long-haired young model wearing a flesh-coloured body stocking in a direct frontal pose that provides a provocative view of the female body. The pose is in the style of Botticelli's The Birth of Venus.
Because Pirou is nearly unknown as a pornographic film maker, credit is often given to other films for being the first. In Black and White and Blue (2008), one of the most scholarly attempts to document the origins of the clandestine 'stag film' trade, Dave Thompson recounts ample evidence that such an industry first had sprung up in the brothels of Buenos Aires and other South American cities by around the start of the 20th century, and then quickly spread through Central Europe over the following few years; however none of these earliest pornographic films is known to survive. According to Patrick Robertson's Film Facts, "the earliest pornographic motion picture which can definitely be dated is A L'Ecu d'Or ou la bonne auberge" made in France in 1908; the plot depicts a weary soldier who has a tryst with a servant girl at an inn. The Argentinian El Satario might be even older; it has been dated to somewhere between 1907 and 1912. He also notes that "the oldest surviving pornographic films are contained in America's Kinsey Collection. One film demonstrates how early pornographic conventions were established. The German film Am Abend (1910) is a ten-minute film which begins with a woman masturbating alone in her bedroom, and progresses to scenes of her with a man performing straight sex, fellatio and anal penetration.
In Austria, Johann Schwarzer formed his Saturn-Film production company which was able to produce 52 erotic productions between 1906 and 1911, when the company was dissolved by the censorship authorities and the films destroyed.
Soon illegal, stag films or blue films as they were called, were produced underground by amateurs for many years starting in the 1940s. Processing the film took considerable time and resources, with people using their bathtubs to wash the film when processing facilities (often tied to organized crime) were unavailable. The films were then circulated privately or by traveling salesman but being caught viewing or possessing them put one at the risk of prison.
The post-war era saw developments that further stimulated the growth of a mass market. Technological developments, particularly the introduction of the 8mm and super-8 film gauges, resulted in the widespread use of amateur cinematography. Entrepreneurs emerged to supply this market. In Britain, the productions of Harrison Marks were "soft core", but considered risqué in the 1950s. On the continent, such films were more explicit. Lasse Braun was as a pioneer in quality colour productions that were, in the early days, distributed by making use of his father's diplomatic privileges. Pornography was first legalized in Denmark July 1969, soon followed by the Netherlands the same year and Sweden in 1971, and this led to an explosion of commercially produced pornography in those countries, with the Color Climax Corporation quickly becoming the leading pornographic producer for the next couple of decades. Now that being a pornographer was a legitimate occupation, there was no shortage of businessmen to invest in proper plant and equipment capable of turning out a mass-produced, cheap, but quality product. Vast amounts of this new pornography, both magazines and films, were smuggled into other parts of Europe, where it was sold "under the counter" or (sometimes) shown in "members only" cinema clubs.
The first explicitly pornographic film with a plot that received a general theatrical release in the U.S. is generally considered to be Mona the Virgin Nymph (also known as Mona), a 59-minute 1970 feature by Bill Osco and Howard Ziehm, who went on to create the relatively high-budget hardcore/softcore (depending on the release) cult film Flesh Gordon. The 1971 film "Boys in the Sand" represented a number of pornographic firsts. As the first generally available gay pornographic film, the film was the first to include on-screen credits for its cast and crew (albeit largely under pseudonyms), to parody the title of a mainstream film (in this case, The Boys in the Band), and to be reviewed by The New York Times. In 1972, pornographic films hit their public peak in the United States with both Deep Throat and Behind the Green Door being met with public approval and becoming social phenomena. The Devil in Miss Jones followed in 1973 and many predicted that frank depictions of sex onscreen would soon become commonplace, but culture soon shifted to the more conservative side and that fantasy never came true. William Rotsler expressed this in 1973, "Erotic films are here to stay. Eventually they will simply merge into the mainstream of motion pictures and disappear as a labeled sub-division. Nothing can stop this." In Britain however, Deep Throat was not approved in its uncut form until 2000 and not shown publicly until June 2005." :Wikipedia.